The Coliseum Celebrates 30 Years!
The Lowcountry's Stage Since 1993
This year, the North Charleston Coliseum celebrates its 30th Anniversary. Since opening on January 29, 1993, nearly 11 million people have come through the doors to enjoy the biggest names in music, sports and family entertainment including: South Carolina Stingrays hockey, Prince, Billy Joel, Bruce Springsteen, Dave Matthews Band, Disney on Ice, Garth Brooks, Pearl Jam, Mary J. Blige, Taylor Swift, Harlem Globetrotters, AC-DC, The Beach Boys, Metallica, Tina Turner, Widespread Panic, Kenny Chesney, KISS, Neil Diamond, Phish, Luke Bryan, Jay Z, Def Leppard, WWE, Darius Rucker, and more.
The Coliseum shows no sign of slowing down as the 2023 calendar is already filling up. Explore below to find out what's coming up, a message from the mayor, fun venue facts, how you can share your memories, and listen to the anniversary playlist on Spotify!
THANK YOU to all of our guests, staff, artists, promoters, sponsors, and EVERYONE who has been a part of our three decades of success!
"I thank the people of the Lowcountry for their support of the North Charleston Coliseum. We will continue bringing the best entertainment in the world, so that everyone enjoys the next 30 years as well."

Keith Summey, North Charleston Mayor
When asked about his favorite shows, Mayor Summey mentioned the Neil Diamond and Elton John concerts. "I think Neil Diamond's music touches so many people and Elton John is just one of the greatest performers I have ever seen. We've had so many wonderful shows over the years but those two were very special."
A Message from ASM Global
"There is no doubt the North Charleston Coliseum has been a great asset for the city, serving as the location for sports and entertainment, and creating jobs and economic impact for the greater Charleston area. We are grateful for our partnership with the City of North Charleston, and join with city leaders in celebrating the successes of 30 years."

Doug Thornton, Executive Vice President of ASM Global, the management company for the Coliseum
A Message from the President of the South Carolina Stingrays
"The Stingrays are the longest tenured team in the ECHL and are proud to call the North Charleston Coliseum home for the last 30 seasons. Working closely with Mayor Summey and the staff at the Coliseum has helped the Stingrays become one of the premier cities in the ECHL. We've had a lot of wonderful memories in the arena, and I hope we can continue to work together as we continue to entertain fans in the Lowcountry."

Rob Concannon, President of the South Carolina Stingrays
A Message from the General Manager
"For 30 years, the North Charleston Coliseum has been the gathering place for the Lowcountry. A place where our community has made so many memories—cheering on the South Carolina Stingrays, singing and dancing along to the biggest musical artists in the world, and watching our kids graduate. These memories will last a lifetime for all of our guests."

Frank Lapsley, North Charleston Coliseum General Manager
Fun Facts About the Coliseum
First Event:
World Figure Skating Champions January 29, 1993
First Concert:
Alan Jackson & Lorrie Morgan January 30, 1993
First South Carolina Stingrays Home Game:
Total number of events:
Total number of concerts:
Total number of people who have attended events:
Most tickets sold (combined performances):
Widespread Panic 101,921
Phish 96,060
Garth Brooks 80,434
Jimmy Buffett 41,256
Alan Jackson 39,609
Most concerts played at the Coliseum:
Widespread Panic (19 shows)
Phish (9 shows)
Garth Brooks (7 shows)
Alan Jackson (6 shows
Reba (5 shows)
Jeff Dunham (5 shows)
Top selling concerts (one performance):
Billy Joel ('94) 12,697
Phish ('10) 12,403
Elton John ('97) 12,335
Eagles ('05) 12,185
Bruce Springsteen ('08) 12,175
Submit Your Favorite Coliseum Memories!
We want to share your special memories. Email us photos from your favorite moments at the North Charleston Coliseum to be featured on our social media and e-newsletter!
*Email us (30thAnniversary@NorthCharlestonColiseumPAC.com) your photo(s), short description, and Instagram social media tag if you'd like to be tagged in the post.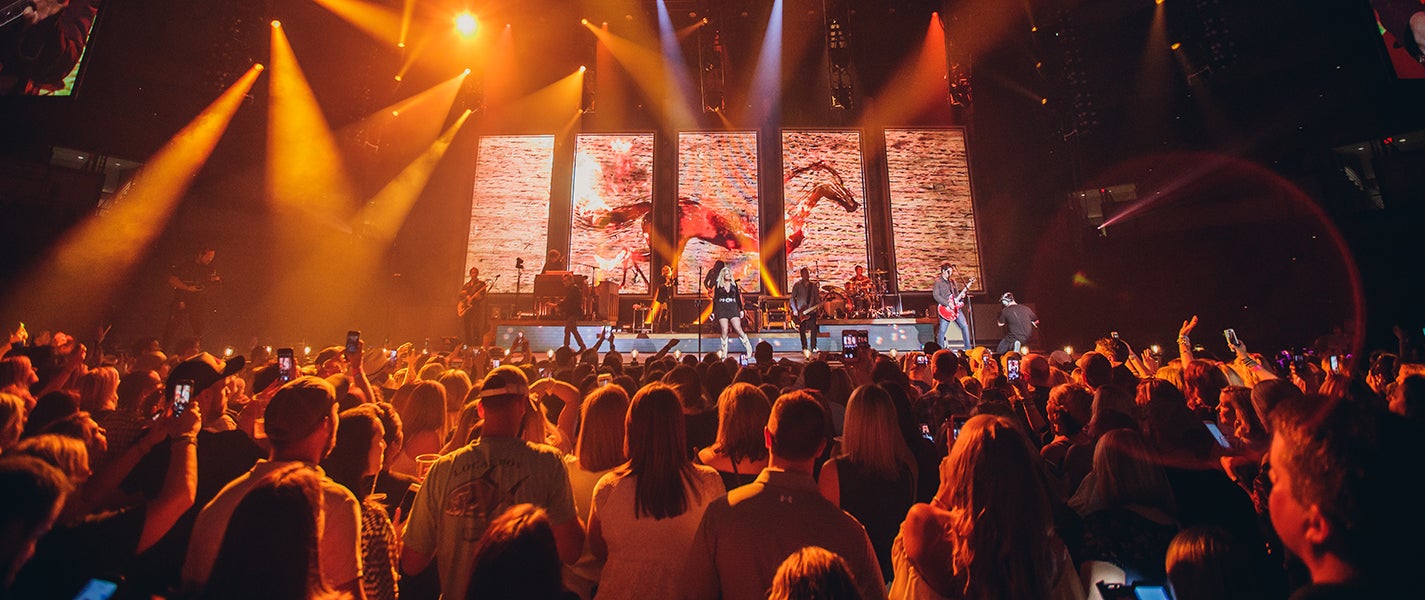 Listen to our Spotify anniversary playlist— to celebrate 30 years of your favorite artists!
Explore the calendar—we look forward to seeing you soon!