Jun 13, 2020

North Charleston Performing Arts Center

6:00PM
$10 Parking Cash Only
Scooby-Doo! And The Lost City of Gold
One of the most beloved international franchises of all time, Scooby-Doo and his meddling, mystery-solving friends will embark on a new adventure to solve a brand new mystery brought to life with cutting-edge technology, original music, puppetry, magic, singing, dance, interactive video, aerial arts, acrobatics, and video mapping.
In Scooby-Doo! and The Lost City of Gold, fans of music, discovery, and gh-gh-ghosts! won't need a passport to travel with Scooby-Doo, Shaggy, Daphne, Fred, and Velma to Alta Luz, a fictitious South American town where ghostly sightings of La Dama de Oro (The Lady In Gold) threaten to scare attendees away from the annual music festival and Incan sun god celebration.
Through dialogue, dance, song, and amazing landscapes, audiences will join the journey as the Gang takes the Mystery Machine on its first flight to a land of ancient civilizations, legends, and culture. As they sniff for clues (and snacks), a trail of extinct purple irises leads them through a veritable Nazca lines labyrinth of mystery as the Gang meets friends…or foes?…Miguel the groundskeeper, Luis the llama, botanist Professor Falcone, the Pachacuties, and Ayar Manco (the 13th Century founder of the Incan civilization). Zoinks!
---------------------------------------------------------------------------------------------------------------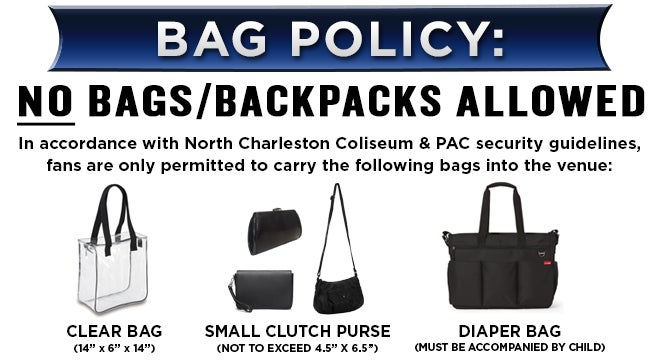 Fans are strongly encouraged to not bring any types of bags to the North Charleston Coliseum & PAC, however, outlined below are types of bags that will be permitted:
- Bags that are clear plastic, vinyl or PVC and do not exceed 14" x 6" x 14"
- One-gallon plastic freezer bag (Ziploc bag or similar)
- Small clutch bags, with or without a handle or strap, not to exceed 4.5" x 6.5"
- An exception will be made for medically necessary items after proper inspection at designated entrances specifically for this purpose.
- Diaper bags will be allowed for families with infants and toddlers. Child must be present.
Prohibited items include, but are not limited to: purses larger than a clutch bag, coolers, briefcases, backpacks, fanny packs, cinch bags, seat cushions, luggage of any kind, computer bags and camera bags or any bag larger than the permissible size.
Fans will continue to be able to carry items allowed into the venues such as non-professional cameras, binoculars, and smartphones as long as they are in their pockets or one of the approved bags outlined above.