Apr 10, 2019

North Charleston Coliseum

6:00PM
$10 Parking Cash Only
Jeff Dunham: Passively Aggressive
Comedian Jeff Dunham has announced the fall leg of his PASSIVELY AGGRESSIVE Tour, with his delightfully twisted cohorts; Peanut, Walter, José Jalapeño, Bubba J, and of course, Achmed the Dead Terrorist. The 56-city tour, which includes stops in the US, Canada and Saudi Arabia, will unveil a brand-new character… Or two!
Dunham has built an entertainment empire over years of non-stop touring and innovation. With 10 million followers on Facebook and 1.8 million YouTube subscribers amassing over a billion views, Jeff has carved out his own unique space in the comedy world leading to record-breaking viewership with his comedy specials on Comedy Central and NBC. His astonishing arena packing power has put him on par with major music acts like Kendrick Lamar and Bruno Mars.
Dunham's most recent stand-up special filmed in Ireland, Relative Disaster, features Dunham along with his ill-behaved and slightly demented posse of characters for a hilarious skewering of family and politics. Relative Disaster is now streaming on Netflix.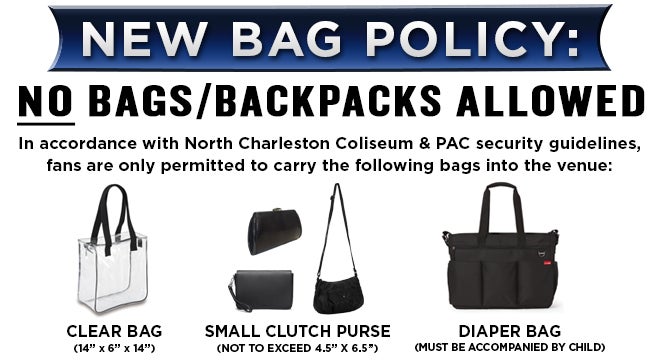 Fans are strongly encouraged to not bring any types of bags to the North Charleston Coliseum & PAC, however, outlined below are types of bags that will be permitted:
- Bags that are clear plastic, vinyl or PVC and do not exceed 14" x 6" x 14"
- One-gallon plastic freezer bag (Ziploc bag or similar)
- Small clutch bags, with our without a handle or strap, not to exceed 4.5" x 6.5"
- An exception will be made for medically necessary items after proper inspection at designated entrance specifically for this purpose.
- Diaper bags will be allowed for families with infants and toddlers. Child must be present.
Prohibited items include, but are not limited to: purses larger than a clutch bag, coolers, briefcases, backpacks, fanny packs, cinch bags, seat cushions, luggage of any kind, computer bags and camera bags or any bag larger than the permissible size.
Fans will continue to be able to carry items allowed into the venues such as non-professional cameras, binoculars, and smart phones as long as they are in their pockets or one of the approved bags outlined above.