Alison Krauss
Date

October

22

, 2019

Venue

North Charleston Performing Arts Center

Event Starts

7:30 PM

Doors Open

6:30PM
$10 Parking Cash Only

Availability

On Sale Now
Event Details
Born in Champaign, Illinois, Alison Krauss grew up listening to everything from folk to opera to pop and rock music, but quickly fell in love with bluegrass ­when she began playing the fiddle at the age of five. Shortly after, Krauss began entering fiddle contests. At the age of 14, Rounder Records signed her to her first record deal and she went on to release her debut solo album two years later. The accomplished bluegrass musician became a member of the Grand Ole Opry at age 21.
Since 1985, Krauss has released 14 albums including five solo, seven with her longtime band and musical collaborators Union Station, and the Robert Plant collaboration Raising Sand, which was certified platinum and won five Grammys, including Album of the Year and Record of the Year. She's sold more than 12 million records to date, and her honors include 27 Grammys, nine Country Music Association awards, 14 International Bluegrass Music Association Awards, two Academy of Country Music Awards and two Gospel Music Association awards.
Windy City, her latest solo album, debuted at No. 1 on the Billboard Top Country Albums and Top Bluegrass Albums charts and received two Grammy nominations. The album was produced by Buddy Cannon, whose vocal harmonies Krauss grew up listening to and were the soundtrack to her childhood. "Buddy sang harmonies on everything back then," Krauss says. She also reveals of Cannon, "I don't do something unless I feel like I'm called to do it. That's what I felt like, so I honored it. It's like the same feeling of when you know something is right musically, with a song or a batch of songs – the same feeling, but this was attached to a person instead of a batch of songs."
Krauss frequently collaborates with artists from numerous genres, including Dolly Parton, Taylor Swift, Kenny Rogers, Emmylou Harris, Gillian Welch, Vince Gill, The Chieftains, James Taylor, The Cox Family, Yo-Yo Ma, Johnny Mathis, Cyndi Lauper, Heart, Bad Company and Phish. She has recorded and toured with Willie Nelson, whom she honored with a performance during the 2015 Gershwin Prize Tribute Concert. She will reunite with Nelson this summer on a co-headlining tour throughout North America. "Whiskey Lullaby," a duet which she performed with Brad Paisley won two CMA Awards in 2004. She has also produced albums for Alan Jackson, Nickel Creek, and The Cox Family. Some of these collaborators were also formative to Krauss and she lists influences including Tony Rice, Ricky Skaggs, Dolly Parton, Larry Sparks, The Cox Family, and Ralph Stanley.
Krauss has contributed songs to numerous films, including "Down to the River to Pray" in the cult classic film O Brother, Where Art Thou? and "You Will Be My Ain True Love" and "The Scarlett Tide" in the film Cold Mountain. She has also provided the voice for several cartoon movie characters, including Bambi's mother in Bambi II and Annabelle in Annabelle's Wish, as well as the singing voice of Davey's girlfriend in the Adam Sandler movie Eight Crazy Nights.
In 2013, she performed at the Kennedy Center's "American Voices" festival that was created and hosted by Renee Fleming and also honored Dolly Parton and Paul Simon with performances during The Kennedy Center Honors. She has performed for three presidents—George W. Bush, Bill Clinton, and Barack Obama.
---------------------------------------------------------------------------------------------------------------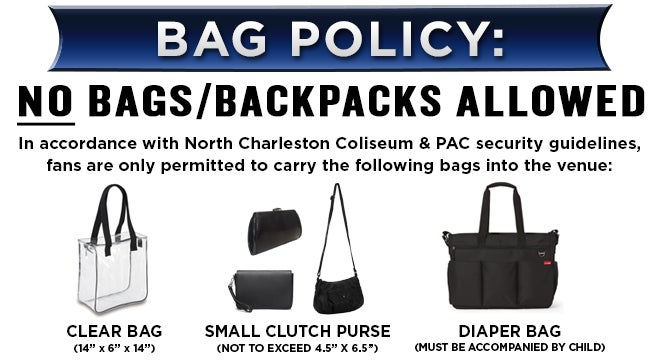 Fans are strongly encouraged to not bring any types of bags to the North Charleston Coliseum & PAC, however, outlined below are types of bags that will be permitted:
- Bags that are clear plastic, vinyl or PVC and do not exceed 14" x 6" x 14"
- One-gallon plastic freezer bag (Ziploc bag or similar)
- Small clutch bags, with or without a handle or strap, not to exceed 4.5" x 6.5"
- An exception will be made for medically necessary items after proper inspection at designated entrances specifically for this purpose.
- Diaper bags will be allowed for families with infants and toddlers. Child must be present.
Prohibited items include, but are not limited to: purses larger than a clutch bag, coolers, briefcases, backpacks, fanny packs, cinch bags, seat cushions, luggage of any kind, computer bags and camera bags or any bag larger than the permissible size.
Fans will continue to be able to carry items allowed into the venues such as non-professional cameras, binoculars, and smartphones as long as they are in their pockets or one of the approved bags outlined above.