Sebastian Maniscalco: You Bother Me
Sebastian Maniscalco: You Bother Me
March
5
-
6
, 2020
Sebastian Maniscalco: You Bother Me
Date

March

5

-

6

, 2020

Venue

North Charleston Performing Arts Center

Doors Open

1 Hour Prior To Showtime
$10 Parking Cash Only

Availability

On Sale Now
Event Details
***Third show added due to overwhelming demand!
With a string of record-breaking, sold-out arena and theatre shows; a best-selling memoir, Stay Hungry; and a role in Green Book, which won Best Picture at the Academy Awards, it's no surprise that Billboard honored him with their inaugural "Comedian of the Year" award.
The man Jerry Seinfeld calls "my favorite comedian" was one of Pollstar's top 30 highest-grossing performers in the world, and was nominated for that publication's Comedy Tour of the Year award. He sold out five shows at Radio City Music Hall, and the latest in Maniscalco's five television comedy specials (for Netflix, Showtime, and Comedy Central) scaled new ratings heights, prompting NBC Nightly News to describe him as "comedy's new superstar."
But "Stay Hungry" is more than just a slogan for the Chicago-born Maniscalco—it's a way of life. And so in 2019, the man dubbed "the comedian's comedian" by People magazine shows no sign of slowing down. The same week in January that his Netflix original special, Stay Hungry, was released, he performed an astonishing four sold-out shows at Madison Square Garden, breaking the record for highest-grossing comedy event ever in North America. The year will also see Maniscalco's performance—alongside Robert DeNiro, Al Pacino, and Joe Pesci—in Martin Scorsese's highly anticipated The Irishman on Netflix. All this in addition to the main event, the launch of a brand-new tour titled "You Bother Me."
Named one of the Top 10 highest-grossing comedians in the world in both 2017 and 2018 by Forbes, Maniscalco has taken full advantage of this new platform. "With the success of the comedy, other opportunities opened themselves up," he says. "I'm able to take on projects I'm passionate about, just do really quality stuff—I'm fortunate to be in a position where I can really calculate what I'm doing and not spread myself too thin."
But the biggest focus for Sebastian Maniscalco in 2019 will be the launch of the "You Bother Me" tour in September. "I constantly walk around going, 'This guy bothers me.,'" he says. "Things you would probably just blow off, I get incensed by. But out of that kernel comes really great stuff. My wife never worked in a restaurant, but I worked in restaurants my whole life. So a lot of the show is just taking the audience through things like the entire experience of going to a sit-down dinner with my wife and her family and all the things that annoy me."
---------------------------------------------------------------------------------------------------------------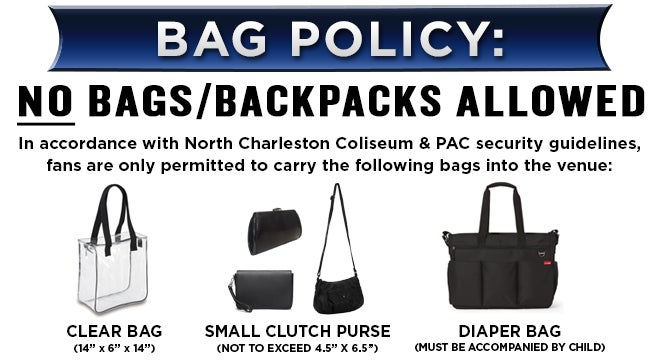 Fans are strongly encouraged to not bring any types of bags to the North Charleston Coliseum & PAC, however, outlined below are types of bags that will be permitted:
- Bags that are clear plastic, vinyl or PVC and do not exceed 14" x 6" x 14"
- One-gallon plastic freezer bag (Ziploc bag or similar)
- Small clutch bags, with or without a handle or strap, not to exceed 4.5" x 6.5"
- An exception will be made for medically necessary items after proper inspection at designated entrances specifically for this purpose.
- Diaper bags will be allowed for families with infants and toddlers. Child must be present.
Prohibited items include, but are not limited to: purses larger than a clutch bag, coolers, briefcases, backpacks, fanny packs, cinch bags, seat cushions, luggage of any kind, computer bags and camera bags or any bag larger than the permissible size.
Fans will continue to be able to carry items allowed into the venues such as non-professional cameras, binoculars, and smartphones as long as they are in their pockets or one of the approved bags outlined above.