Alice Cooper
Date

November

14

, 2019

Venue

North Charleston Performing Arts Center

Event Starts

7:30 PM

Doors Open

6:30PM
$10 Parking Cash Only

Availability

On Sale Now
Event Details
Alice Cooper pioneered a grandly theatrical brand of hard rock that was designed to shock. Drawing equally from horror movies, vaudeville, and garage rock, the group created a stage show that featured electric chairs, guillotines, fake blood, and boa constrictors. He continues to tour regularly, performing shows worldwide with the dark and horror-themed theatrics that he's best known for.
With a schedule that includes six months each year on the road, Alice Cooper brings his own brand of rock psycho-drama to fans both old and new, enjoying it as much as the audience does. Known as the architect of shock-rock, Cooper (in both the original Alice Cooper band and as a solo artist) has rattled the cages and undermined the authority of generations of guardians of the status quo, continuing to surprise fans and exude danger at every turn, like a great horror movie, even in an era where CNN can present real life shocking images.
With his influence on rock & roll and popular culture long since acknowledged, there is little that Alice Cooper hasn't achieved in his remarkable career, including platinum albums, sold-out tours and any number of honors and career achievement awards.
---------------------------------------------------------------------------------------------------------------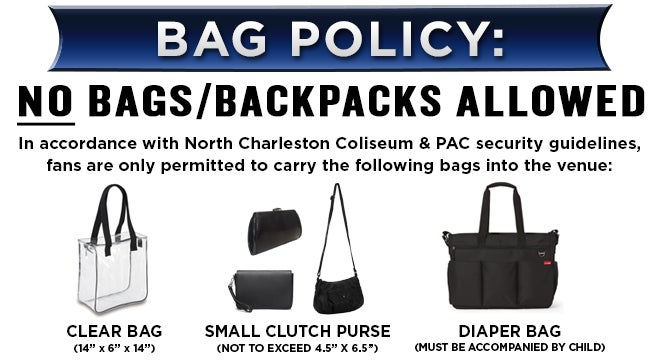 Fans are strongly encouraged to not bring any types of bags to the North Charleston Coliseum & PAC, however, outlined below are types of bags that will be permitted:
- Bags that are clear plastic, vinyl or PVC and do not exceed 14" x 6" x 14"
- One-gallon plastic freezer bag (Ziploc bag or similar)
- Small clutch bags, with or without a handle or strap, not to exceed 4.5" x 6.5"
- An exception will be made for medically necessary items after proper inspection at designated entrances specifically for this purpose.
- Diaper bags will be allowed for families with infants and toddlers. Child must be present.
Prohibited items include, but are not limited to: purses larger than a clutch bag, coolers, briefcases, backpacks, fanny packs, cinch bags, seat cushions, luggage of any kind, computer bags and camera bags or any bag larger than the permissible size.
Fans will continue to be able to carry items allowed into the venues such as non-professional cameras, binoculars, and smartphones as long as they are in their pockets or one of the approved bags outlined above.