Congratulations, Madison Coli! You're the winner of our Waitress - Baked from the Heart pie contest!
Check out Madison's "Out of my Turtle Shell Turtle Pie" winning-recipe below: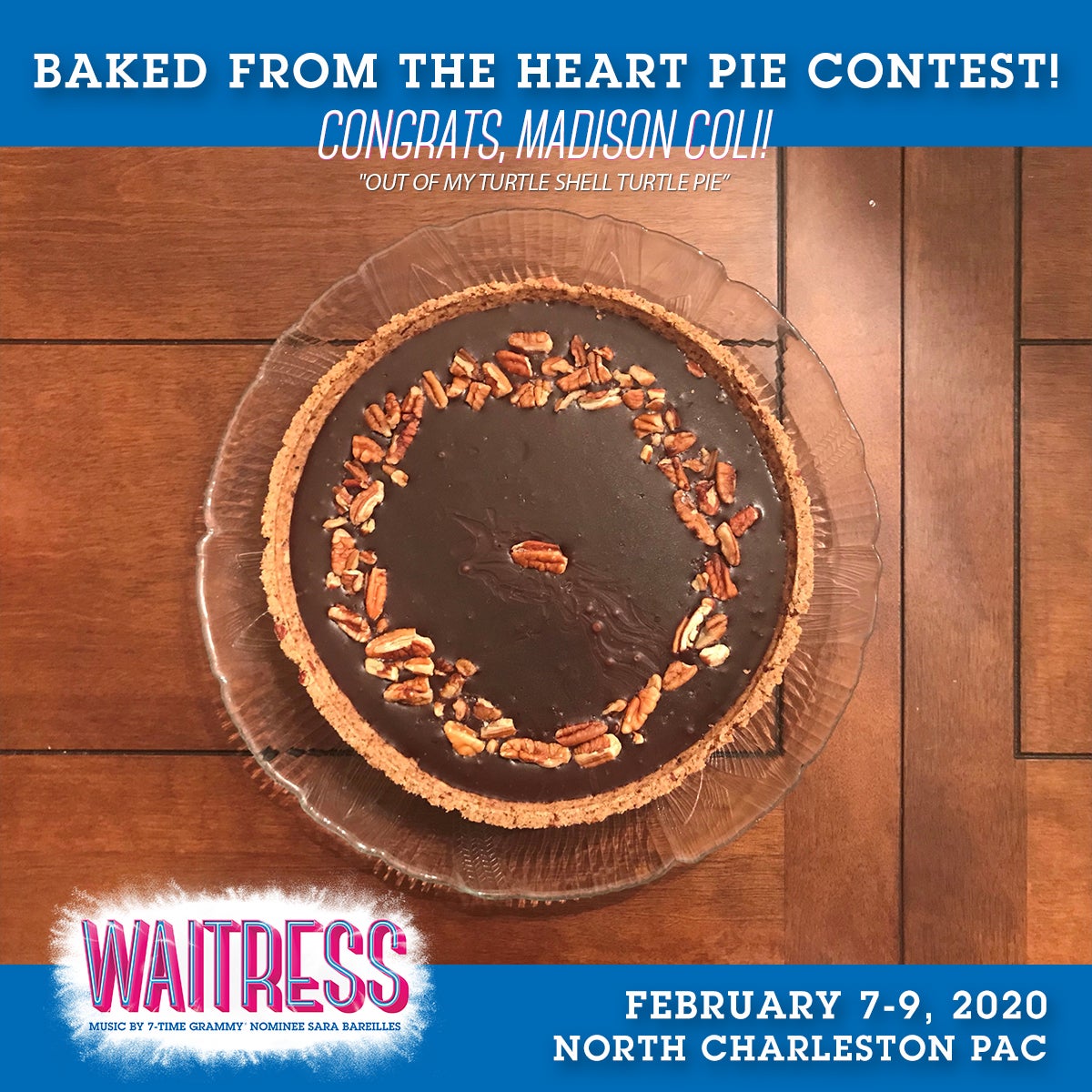 INGREDIENTS
Pecan Cookie Crust
1 cup plain flour
4cup caster sugar
1 tablespoon cornstarch or cornflour
1 cup pecans, finely chopped
1/2 cup (1 stick) unsalted butter, melted
Brown Sugar Caramel
1 cup sweetened condensed milk
1/2 cup light brown sugar
1/4 cup unsalted butter
Pinch of sea salt
Chocolate Ganache
1 and 1/2 cups dark (or milk) chocolate, roughly chopped
1/2 cup thickened or heavy cream
Garnish
1 cup pecans, roughly chopped
Pinch of sea salt
INSTRUCTIONS
For the pecan cookie crust:
Preheat oven to 360 F. In a mixing bowl, add flour, sugar, cornflour, and pecans. Pour melted butter over and stir together until the mixture resembles wet sand.

Pour cookie crumbs into an 8-inch pie plate. Press crumbs into the bottom and sides (using the back of a spoon to form one even layer) It may not be perfect, but that makes it even better!

Bake the cookie crust for 15 minutes (or until crust is golden on the edges). Allow cooling for 15 minutes.
Meanwhile, make the caramel:
Add sweetened condensed milk, brown sugar and butter in a medium saucepan and place on low-medium heat.

Stir gently (and consistently) until all the ingredients have combined and continue to cook for 3-5 minutes until the caramel thickens and the sugar is completely melted. Then add a pinch of salt. Set aside to cool slightly.

Once cooled, pour caramel over baked cookie crust and Place in the fridge.
Make the chocolate ganache:
Place chocolate and cream into a bowl. Heat in the microwave, stirring every 20 seconds, until combined and smooth. Leave to cool for a few minutes.

Pour the ganache over the caramel and spread to the corners.
For garnish, Scatter chopped pecans on top; or get creative and arrange them however you like! Don't forget to sprinkle on some sea salt!
Refrigerate pie for at least 6 hours or for the best results, overnight.
Next step: Enjoy!
-----------------------------------------------------------------------------------------------------------------------------------
CALLING ALL BAKERS!
WAITRESS Pie Contest
The North Charleston Performing Arts Center is conducting a local search for the most creative pie recipe, like Jenna's signature* pies from WAITRESS, for a chance to win a $100 Gift Card to The Harbinger Cafe & Bakery AND four (4) tickets to opening night! As pie is a key ingredient to the storytelling of the show, we are requesting creative pie recipes that mimic the show's whimsical pies.
SUBMISSION
To enter: Bakers must submit their most creative, whimsical pie recipe – the kind of recipe that expresses one's hopes, dreams, fears or frustrations – baked right from the heart. This must be something people could actually bake at home.
Please email your submission to [email protected] and include your name, phone number, name of pie, recipe, and detailed instructions. (Please do not send in actual pie or ingredients.)
Submissions must be received by MONDAY, JANUARY 27, 2020 by 11:59 PM.
WINNER SELECTION
Three semifinalists will be selected by the North Charleston Performing Arts Center on Tuesday, January 28, 2020. We will then have our team choose the favorite!
WINNER
The winning recipe will be named the official pie of the North Charleston run of WAITRESS shows. The winner will also receive:
$100 Gift Card to The Harbinger Cafe & Bakery
Four (4) tickets to opening night
Inclusion on our website and social channels with the winning recipe
Two runner-up winners will receive a pair of tickets to opening night
Contest rules/Requirements
Submissions must be received by Monday, January 27, 2020.
Recipes must be something you can actually bake.
For all official contest rulings, click HERE.